Tahir Naseem was self proclaimed of prophet hood . He was living abroad in Canada and came to Pakistan in 2018 and caught while preaching his religion in name of Islam . Although his previous religion was Ahmadiat (qadyani Religion) but he was never recognized by Qadyanis as "prophet ". After he was shot down in Court by named Mohammad Khalid during proceeding , the news quickly spread all over Pakistan and spread by Supporters of Ahmadia Religion to get benefits of persecution .
He also had admitted to have "some problems in his brain " in front OF Local police and Mufti Wajid in his native area , while he was caught by Mullahs against his own claims of prophet hood . Video has been attached with Blog. He also asked forgiveness from Public and never to repeat such claims . He send curse on his Mirza Qadyani in a video .
Now After he was shot down on 29-July-2020 in court , ahmadis as usual started propaganda and crying with the songs of persecution all over twitter and media . This is always done intentionally to get benefits of "persecution " by media and defame Pakistan all over the world . Tahir Naseem was Ahmadi but since his claims of prophethood , he was not recognized as Follower and member of Jammat due to non agreement of Ahmadia Branch (cult) with the new claimant of prophet hood within Ahmadia . Ahmadis use to kick out (IKHRAJH) these people out and ironically also try to get benefit if anything happens to them . Attached are his video and claims too from face book from 2018 .
The Question for Ahmadis is that If you had accepted his prophet hood within Ahmadia religion then you reserve the right to condone the death of Ex member of your society . This is just like a Muslim getting benefit of a death of a Qadyani . Why you Qadyani people lie , and show him Ahmadi just to get benefit from his death .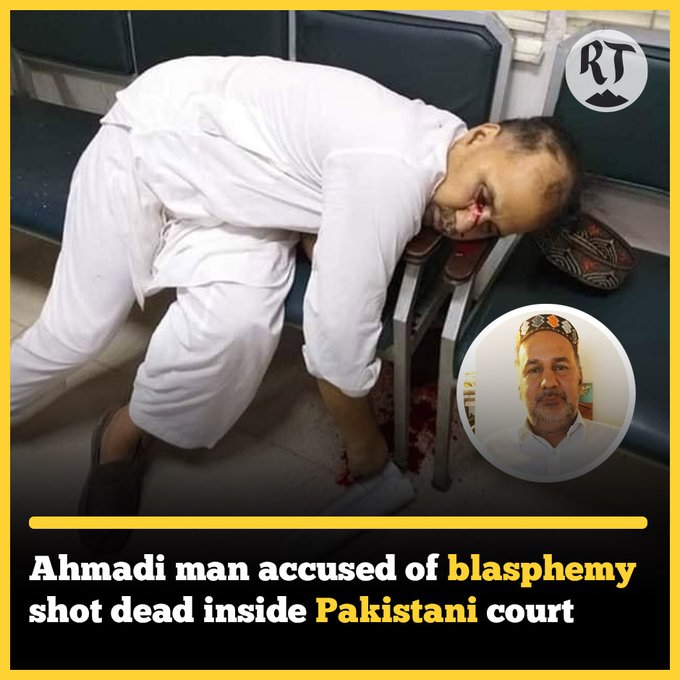 Interview of Tahir Naseem showing and claiming himself to be New Prophet within Ahmadia in attached ( But his admission that he was also not part of Ahamdia Cult as well) . he claimed to be "Pasr Maseeh " I.e Metaphric son of Mira Qadyani was not acceptable for ahamdis.He relied his claim on Quote of Mirza Qadyani from Azala Oham that Persons like Mirza Qadyani can come in future . All these claimants are on opium to clim such things
Zaitoon FM Live show on death on Tahir Ahmad Naseem .